CHRISTMAS LIGHTING
IN ASHEBORO, NC
Benefits of Our Services in
Asheboro, NC That You'll Enjoy
We Only Deliver
The Best!
We pride ourselves on delivering only the best services to our customers. We believe that our customers deserve nothing but the best, which is why we take great care in every project we undertake.
Mordern Efficient Methods
Friendly Customer Service
100% Satisfaction Guaranteed
Working With Us Is As Simple As 1, 2, 3
Working with us is easy and convenient. We understand that our customers have busy lives and schedules, which is why we strive to make the process as quick and hassle-free as possible. From scheduling a consultation to completing the work, we prioritize efficiency and convenience.
No-Obligation Quotes
We provide free, no-obligation quotes so you can decide if our services are right for you.
Reasonably Priced
We provide affordable and competitive prices, so you don't have to break the bank!
Quality Services
Our carpet cleaning services are backed by a satisfaction guarantee, meaning you can rest assured that your carpets will look their best.
What Do Our Customers Have To Say?
From the moment I called to get an estimate Kevin was awesome answering questions and with putting together a plan for the house. The crew got here at 8:30 and went right to work installing the gutter guards then the Christmas lights. Everything was explained and installed with ease and professionalism.
Kevin was very honest about what he did not feel he could clean our older deck like it needed. I asked him to clean it anyway and was very pleased it looked so much better than I expected. The house was beautiful and our brick path cleaned of moss and weeds. Staff arrived on time, was very professional and kind. 
Kevin responded to my inquiry immediately, was out the next day for an estimate, and had my Christmas lights installed for me less than a week later—despite it being the end of the season for Christmas light install. Communication was easy and efficient from start to finish, as was install. He is a true professional. 
What Services Do You Need From Paul Brothers SoftWash in Asheboro, NC?
We Are Committed To Your 100% Satisfaction
Why Choose Paul Brothers Softwash?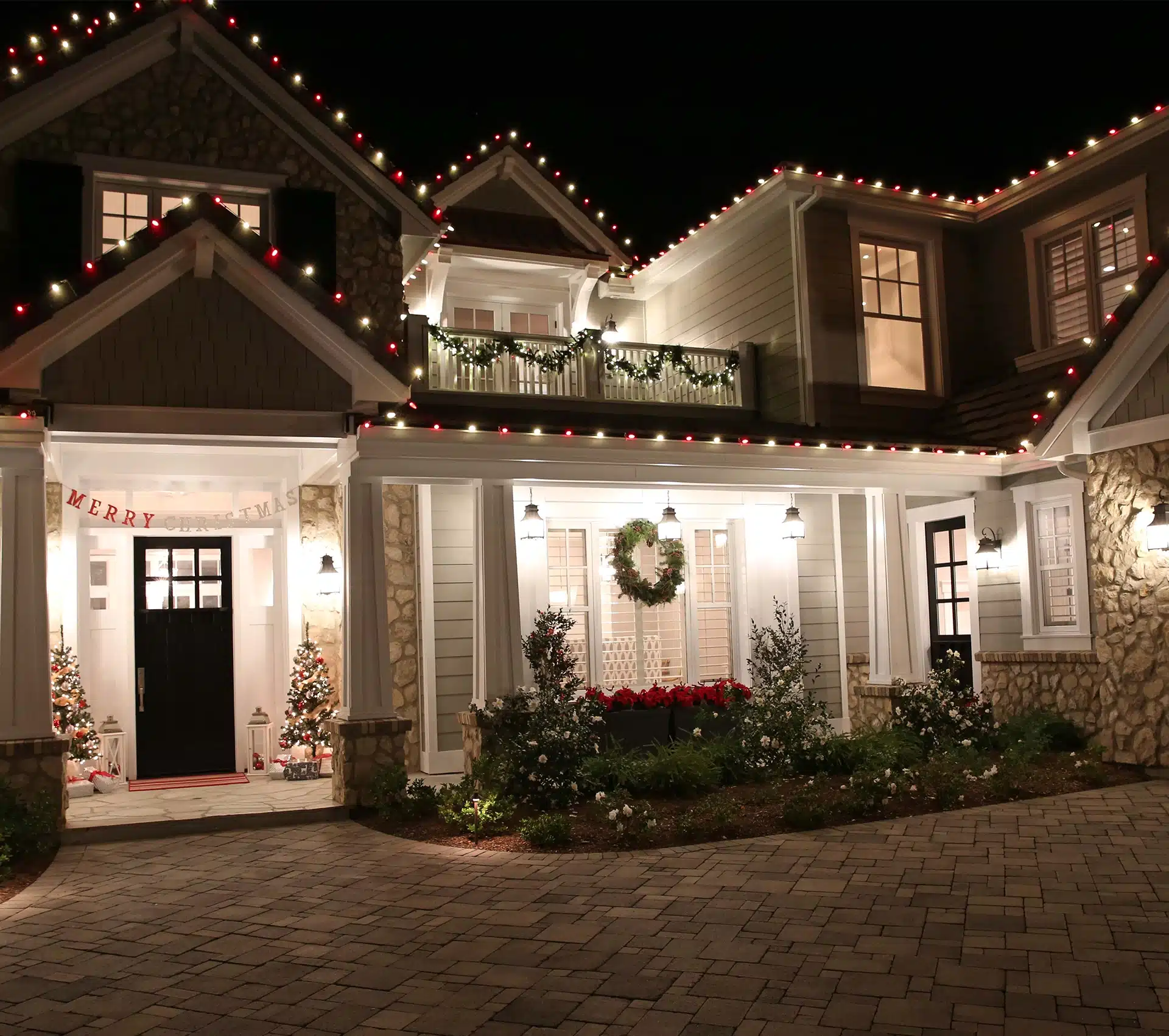 Christmas Lighting Services Done Right!
Christmas lights are a must-have if you want to create a festive atmosphere in your home during the holiday season. There are many ways to decorate with Christmas lights, from stringing them up around the windows to wrapping them around trees and bushes. Outdoor Christmas lighting can be a great way to show your holiday spirit to your neighbors and passersby. It's that time of year again when outdoor Christmas lights appear in neighborhoods around the country. Putting up these lights is part of their holiday tradition for many people. But did you know there's more to outdoor Christmas lighting than just hanging a few strings around your house?
Consider your outdoor Christmas lighting to make your home stand out this holiday season. The sooner you start planning your outdoor Christmas lighting, the better. It will give you time to figure out precisely what you want to do and how you will do it. Think about your theme. What kind of look are you going for? Are you going for a traditional Christmas look or something more modern? At PaulBrothers Mobile Wash, we help you with all your Christmas light installation and removal needs. We're experts in outdoor Christmas lighting and can help you create the perfect look for your home. We'll work with you to devise a plan that fits your budget and even install the lights for you. 
Adds a festive atmosphere to the home.
Helps to spread the holiday cheer.
Create unique and beautiful displays.
Becomes part of the holiday tradition.
Our Simple Next Steps to Hire Us
Request a free quote
Contact Paul Brothers Softwash for a free quote for your required services and learn more about what we can offer!
Schedule a date
Set up a time for the service technicians to come to your home and thoroughly inspect each exterior surfaces to be cleaned.
Relax
Sit back and relax while our technicians at Paul Brothers Softwash take care of the cleaning process for you.
Be The Talk Of the Neighborhood
Christmas Lighting Near Me
Christmas lighting is one of the most important traditions during the Christmas season. Many families take part in this tradition by stringing lights around their homes. From a small number of lights around your home, decorate your entire home with lights! Show off your holiday spirit and get into the Christmas spirit. Christmas lighting can help to create a festive and inviting atmosphere in your home that will make it more enjoyable for you and your guests during the holiday season. By hanging up some lights, you can also improve your home's curb appeal and make it stand out in the neighborhood. Christmas lights can also accentuate certain features of your home that you want to highlight, such as an attractive entryway or a beautiful Christmas tree.
Finally, Christmas lighting can make your home feel more cheerful and festive, which can be a great way to boost your mood during the holiday season. At PaulBrothers Mobile Wash, we can help you choose and install the perfect Christmas lighting for your home. Our professional cleaners and detailers have years of experience in washing and cleaning homes of all sizes, so we know exactly how to prepare your home for the holidays. We specialize in LED Christmas lighting, which is more energy-efficient than traditional incandescent bulbs and safer and longer lasting. 
Helps to create a magical holiday atmosphere.
Increases the festive spirit.
Can be used to accentuate the architecture of a home.
Adds a unique touch to any event or occasion.
About Asheboro, NC
City of Asheboro, North Carolina
Area:
Local Time:
Mayor:
Weather:
Population:
Things To Do in Asheboro, NC